A limited number of spots for individual teletherapy in place of SLICK may be available. Please contact Christina Gollis.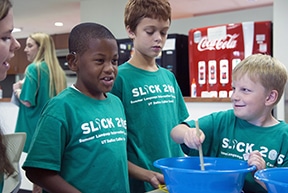 SLICK is an intensive language therapy program for children who have finished 1st grade through children who have finished 6th grade who have language and learning disorders. SLICK is conducted by a licensed speech-language pathologist with the support of graduate student clinicians.
The purpose of SLICK is to provide a fun learning environment and to build children's language skills through literacy‐based activities. The program addresses language goals such as following directions, listening comprehension, reading comprehension, vocabulary, identifying the main idea, summarizing and
problem solving.

Evaluation Requirement: An intake assessment is required for all new patients. The cost of the intake is $50 and is not insurance eligible. To schedule an assessment, please call the Richardson location at 972-883-3630.
Cost: $700 + $75 nonrefundable enrollment fee
June 8 – July 15, 2020
Richardson, Monday and Wednesday, 8:30 – 11:00 a.m.