Summer Intensive Auditory Revitalization Conference (SIARC)
SIARC is a unique opportunity for adults with hearing impairment and their communication partners to experience the benefits of cooperative learning in a social environment. Participants will benefit from the expertise of guest speakers on several occasions during the conference. Topics in the past have included tinnitus, coping skills and assistive listening devices.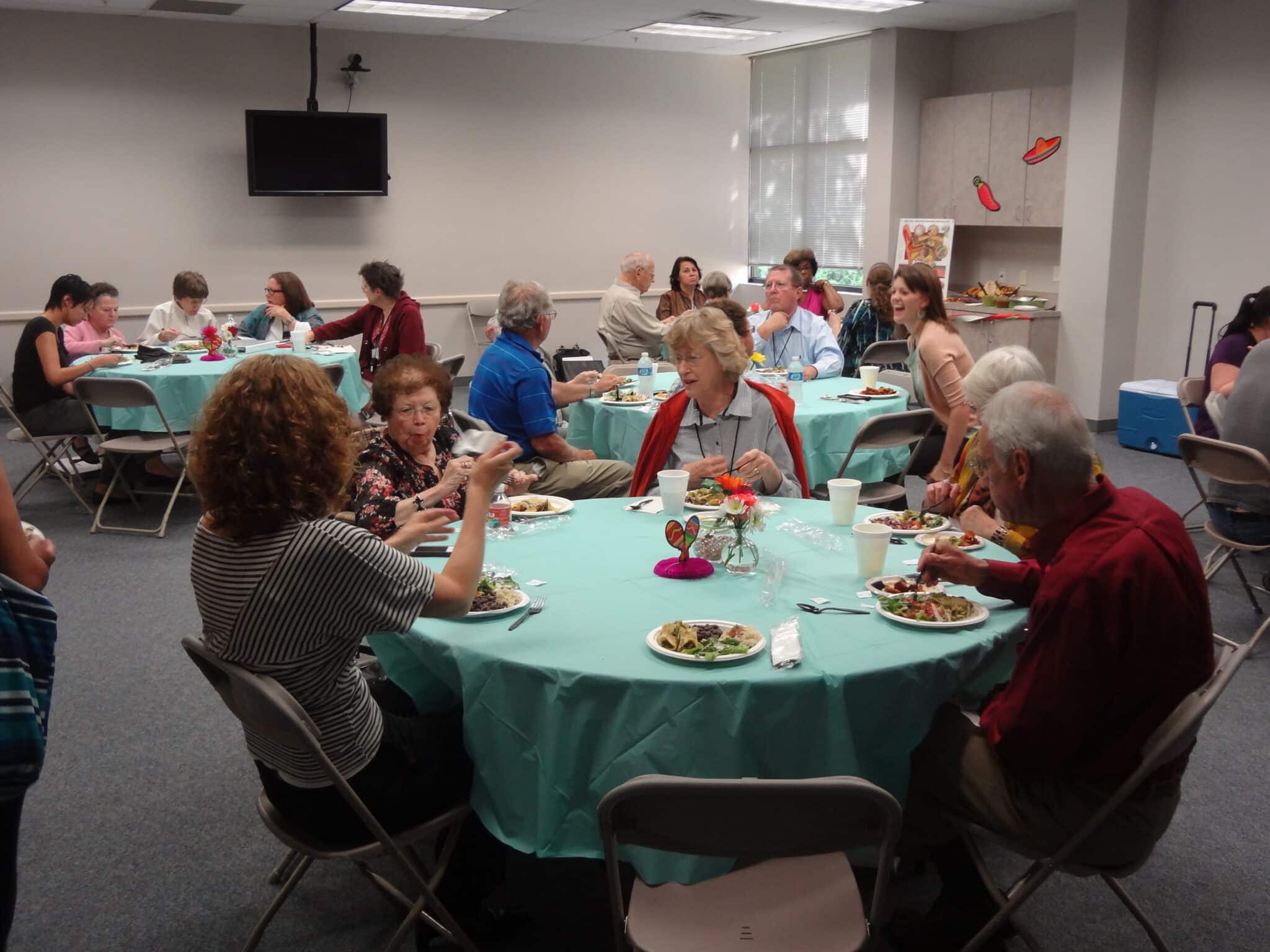 Group classes on coping, facilitating communication and how to use new listening technology will be provided each day. Throughout the conference and planned social activities, participants will be able to try digital and programmable hearing aids and use various assistive listening devices that work with hearing aids or cochlear implants. Personnel from the Advanced Hearing Research Center at the Callier Center will present innovations in hearing research and opportunities for research involvement.
When: July 23-27
Where: Callier Clinical Research Center, 811 Synergy Park Blvd., Richardson, TX 75080
Cost: Before July 1, registration fee is only
$350 per couple or $175 per individual.
After July 1, registration fee is $400 per
couple and $200 per individual.
Registration includes hearing test, all technology trials and classes and Lunch/Dinner on July 24-26.
Contact: Dr. Linda Thibodeau
Camp Annie
Join us for a summer camp centered around the NTPA Deaf Theater Showcase "A Union of Hands and Voices" for youth who are Deaf or Hard of Hearing and their siblings. This camp is a collaboration among the Callier Center/UTD AUD program, Broadway Dallas and the North Texas Performing Arts programs. Each component is contributing expertise to the camp which allows for experiences in multiple theatres including a field trip to Fair Park Music Hall for a Broadway Dallas Stage tour!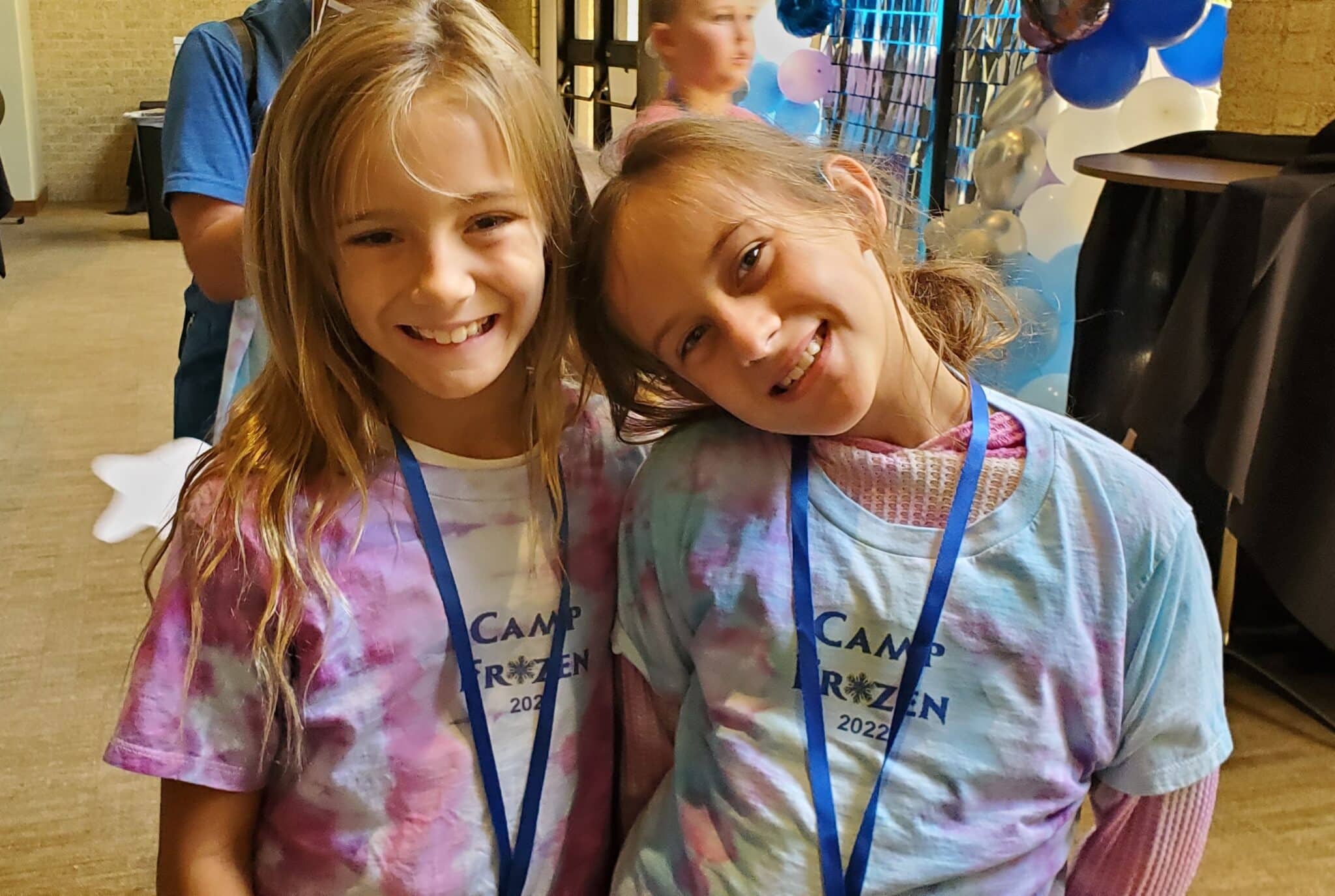 Campers will participate in musical-themed activities centered around one of the core musical scenes featured in the showcase, "Annie!" These activities include stage tours, set design, assistive technology trials and costume/lighting/stage sound overviews.
Camp will run June 26-30, 9am-3 pm daily and include tickets to see the Friday 7:30 PM theatrical performance "A Union of Hands and Voices" at NTPA's Willow Bend Center of the Arts in Plano. Campers need to bring a sack lunch/snacks, water bottle and their hearing technology. Please wear closed toed shoes and clothes that are easy to move in!
Communication during the camp will be conducted using both oral and sign modalities.
Full or partial scholarships are available.
When: June 26 – 30, 9:00AM-3:00PM
Ages: Grades 1-12
Where: North Texas Performing Arts Deaf Theater
6121 W Park Blvd, Ste. B216
Plano, TX 75093
Cost: $200
Contact: 972-422-2575
Camp Interact
Camp Interact is a therapeutic day camp for children finishing 1st grade to 5th grades with social difficulties. Children may have a diagnosis of autism spectrum disorder/Asperger's, ADHD, nonverbal learning disorder and/or mild language impairments.
Camp Interact:
Is specifically designed to give children with social communication deficits a chance to participate in a fun camp-like environment
Includes drama, team-building activities, funshops and special camp activities throughout the week
Includes individualized goals
Incorporates each child's goals into every part of the day
Is conducted by licensed speech-language pathologists with the support of graduate student clinicians
Is best suited for children who are fully conversational in home and school environments
Evaluation Requirement: An intake assessment is required for all new patients. The cost of the intake is $50 and is not insurance eligible. To schedule an assessment, please email Rachel Wehner.
When: July 31 – Aug 4, 9:00AM-3:00PM
Cost: $500 + $75 nonrefundable enrollment fee
Contact: Rachel Wehner
Summer Language Camp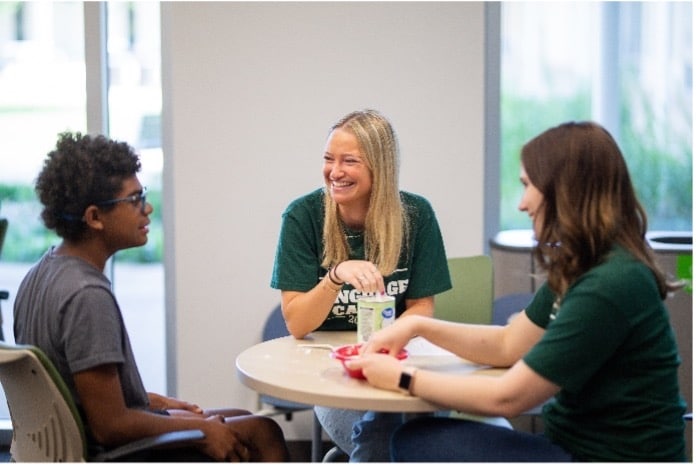 New for this year: Summer Language Camp will focus on reading and listening comprehension, vocabulary development and narrative language development. It is best if campers are fluent readers in order to participate in activities. Activities will center around a chapter book and the teaching of strategies for optimal progress. Individual goals may be targeted in small group activities. Please note that social (pragmatic) language and articulation skills are not addressed formally in this camp, but may be informally targeted.
Summer Language Camp
is developed by speech-language pathologists that tailor therapy to each child's individual needs;
addresses language goals such as following directions, listening comprehension, reading comprehension, vocabulary, identifying the main idea, summarizing and problem solving;
incorporates each child's goals into every part of the day;
is run by UT Dallas graduate students under the supervision of licensed speech-language pathologists.
Enrollment Instructions: An intake may be scheduled for children who have current goals and recent testing from the past year. The intake is $50 and lasts about 30 minutes. The primary purpose of the intake is to set individual goals, talk about the expectations for camp and fill out paperwork. If a child does not have current speech-language goals, an evaluation may be scheduled to assess current language and set goals. This will be scheduled through the front office and is a longer appointment. Evaluations will be scheduled starting in April so that goals are still appropriate in June.
When:
Mondays and Wednesdays, June 5-July 12, 2023, 9:00 – 11:30 a.m.
Ages 6-12
*no meeting on June 19
Where: Callier Center Richardson
2895 Facilities Way | Richardson, Texas 75080
Cost: $700 + $75 nonrefundable enrollment fee
Contact: Christina Gollis
Summer Listening Camp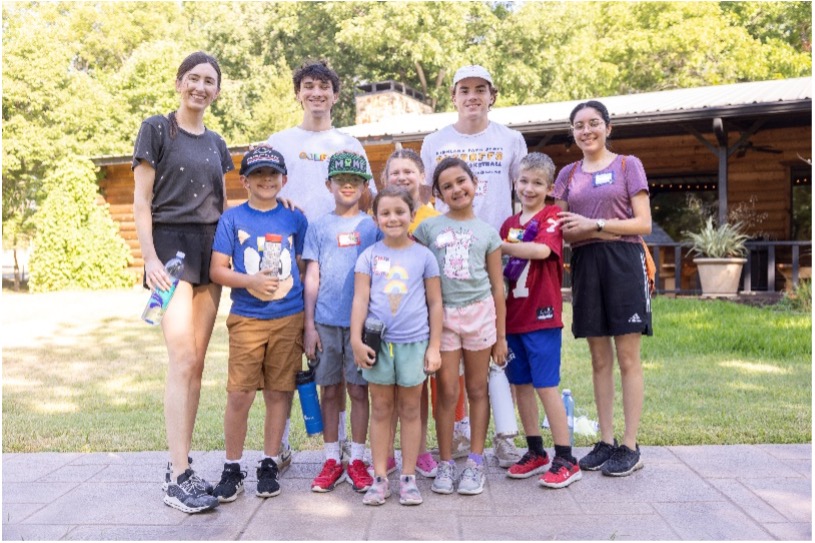 The beloved week-long Summer Listening Camp gives children who have hearing loss and wear cochlear implants or hearing aids an opportunity to receive listening and speech-language therapy while participating in fun camp activities.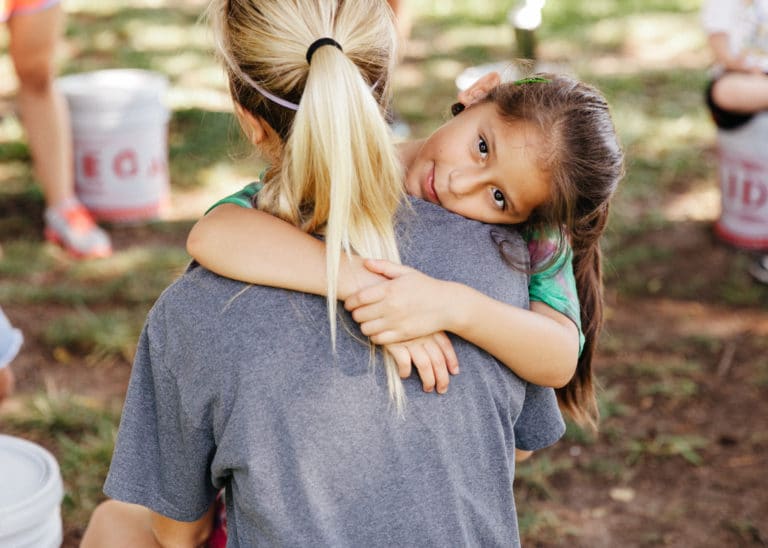 I love it, because it's where you're around other kids that are just like you. It's where you can be yourself.

Lauren Retta, age 10
Summer Listening Camp serves children ages 4 to 11. Audiologists, speech-language pathologists and graduate students provide listening and speech-language therapy that is tailored to each child's individual goals. Therapy is woven throughout each activity including rock wall climbing, fishing, music and dance, arts and crafts and water play.
"Everybody wants their child to succeed and to grow and to be a positive influence and give back someday and I think this is going to give Lauren that direction in life." – Michelle Retta, Lauren's mother
"It touches my heart to see a parent that travels from Oklahoma or Arkansas or from all over just to come to this camp. There's nothing in the area like it and having it in our backyard has been such a blessing." – Megan Leadingham, parent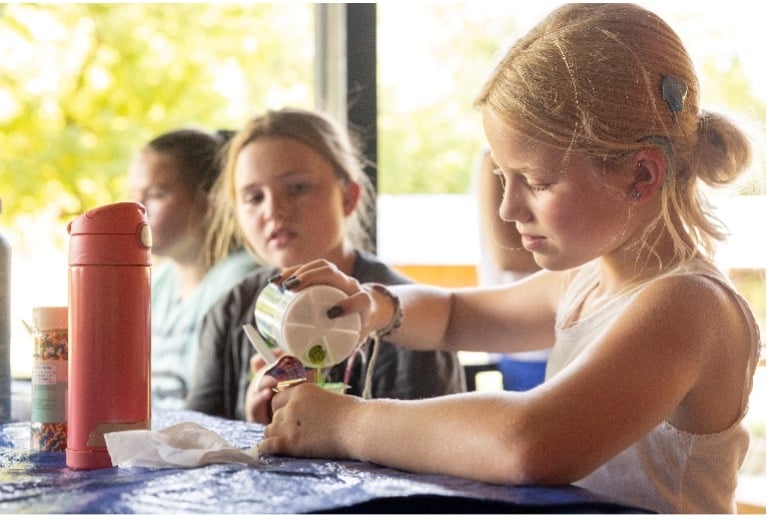 When: July 24 – 28, 9:00 AM – 3:00 PM (Monday – Thursday) and 9:00 AM – 2:00 PM (Friday)
Where: Cross Creek Ranch
3406 Dublin Road, Parker, TX 75002
Cost: $250 + $75 nonrefundable enrollment fee
Contact: Melissa Sweeny; msweeney@utdallas.edu or call 972-883-3139
Scholarship: A limited number of scholarships are available. To request a scholarship application, please check the box on the registration form and return it before May 19, 2023.
Summer Reading Camp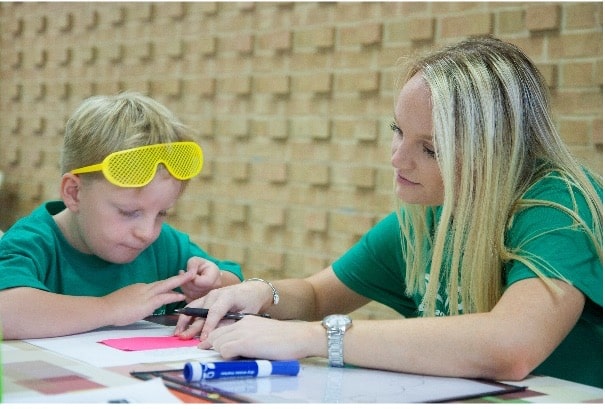 Summer Reading Camp will focus on intensive instruction in decoding and encoding and is meant for children who are having difficulty learning to read. A multisensory approach to teaching phonics and phonemic awareness will be used. This group will also build in some reading comprehension instruction and practice in order to support the whole experience of reading.
Enrollment Instructions: An intake appointment is required for new patients in order to talk about goals, expectations for camp and fill out paperwork. This is a 30 minute appointment that costs $50. An evaluation is not necessary, but is helpful if it has already been completed and results can be sent. All students will receive a screening on the first day of camp.
When: Tuesdays and Thursdays, June 6-July 13, 2023
Mornings: 9-11 a.m
Ages 6-10
*no meeting on July 4
Where: Callier Center Richardson
2895 Facilities Way | Richardson, Texas 75080
Cost: $700 tuition + $75 enrollment fee
Contact: Christina Gollis
Camp CHAT (Communication Habilitation via Audition for Teens)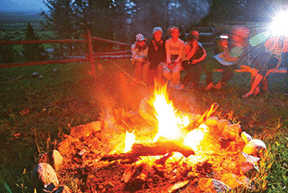 Camp CHAT is a weekend retreat for teens with hearing loss and their families. Campers will engage in communication activities using the latest digital wireless microphones and technology. Depending on the camp location, campers will also have the opportunity to participate in challenge games, putt-putt golf, team building, horseback riding, new friendships, crafts, hammock relaxing and campfire excitement.
Camp is conducted by a licensed audiologist with the support of graduate student clinicians.
When: March 3-5, 2023
Friday at 6:30PM – Sunday at 11:00AM
Where: Camp Copass
8200 E McKinney St
Denton, TX 76208
Cost: $200 for 1 teen and 1 parent + $50 for additional parent/sibling
Learn More
Contact: Dr. Linda Thibodeau or call 972-898-3463.
The University of Texas at Dallas Department of Speech, Language and Hearing will not take custodial responsibility of minors while participating in Camp CHAT. Custodial responsibility will remain with parents, legal guardians and chaperones.