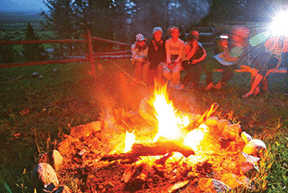 Camp CHAT is a weekend retreat for teens with hearing loss and their families. Campers will engage in communication activities using the latest digital wireless microphones and technology. Depending on the camp location, campers will also have the opportunity to participate in challenge games, putt-putt golf, team building, horseback riding, new friendships, crafts, hammock relaxing and campfire excitement.
Camp is conducted by a licensed audiologist with the support of graduate student clinicians.
When: March 3-5, 2023
Friday at 6:30PM – Sunday at 11:00AM
Where: Camp Copass
8200 E McKinney St
Denton, TX 76208
Cost: $200 for 1 teen and 1 parent + $50 for additional parent/sibling
Learn More
Contact: Dr. Linda Thibodeau or call 972-898-3463.
The University of Texas at Dallas Department of Speech, Language and Hearing will not take custodial responsibility of minors while participating in Camp CHAT. Custodial responsibility will remain with parents, legal guardians and chaperones.