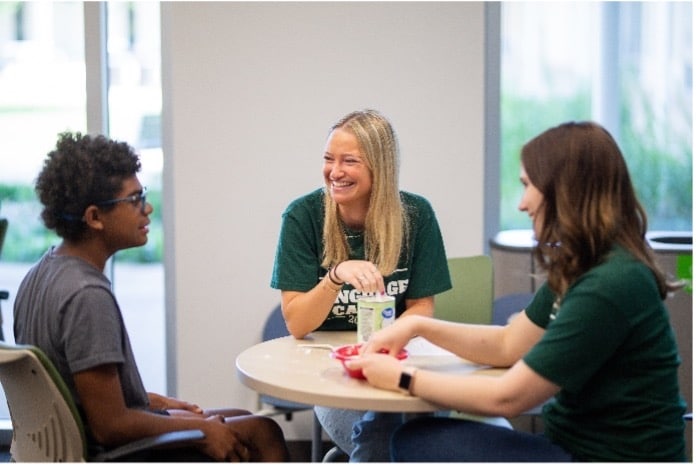 New for this year: Summer Language Camp will focus on reading and listening comprehension, vocabulary development, and narrative language development. It is best if campers are fluent readers in order to participate in activities. Activities will center around a chapter book and the teaching of strategies for optimal progress. Individual goals may be targeted in small group activities. Please note that social (pragmatic) language and articulation skills are not addressed formally in this camp, but may be informally targeted.
Summer Language Camp
is developed by speech-language pathologists that tailor therapy to each child's individual needs;
addresses language goals such as following directions, listening comprehension, reading comprehension, vocabulary, identifying the main idea, summarizing and problem solving;
incorporates each child's goals into every part of the day;
is run by UT Dallas graduate students under the supervision of licensed speech-language pathologists.
Enrollment Instructions:  An intake may be scheduled for children who have current goals and recent testing from the past year. The intake is $50 and lasts about 30 minutes. The primary purpose of the intake is to set individual goals, talk about the expectations for camp, and fill out paperwork. If a child does not have current speech-language goals, an evaluation may be scheduled to assess current language and set goals. This will be scheduled through the front office and is a longer appointment. Evaluations will be scheduled starting in April so that goals are still appropriate in June.
When:
Mondays and Wednesdays, June 5-July 12, 2023, 9:00 – 11:30 a.m.
Ages 6-12
*no meeting on June 19
Where: Callier Center Richardson
2895 Facilities Way | Richardson, Texas 75080
Cost: $700 + $75 nonrefundable enrollment fee
Contact: Christina Gollis