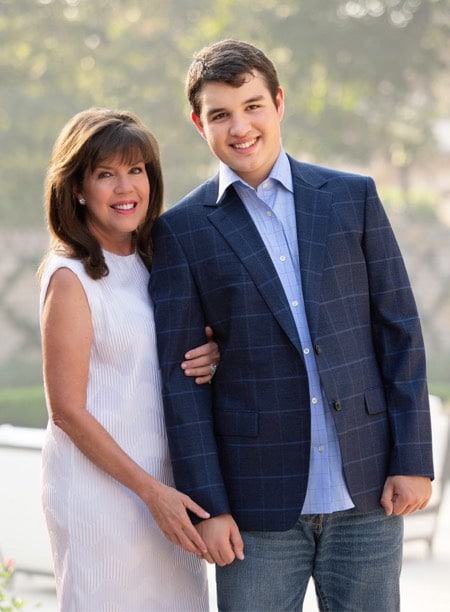 Inside the Callier Clinical Research Center, scientists conduct studies designed to translate research findings into solutions that clinicians can use to transform the lives of people with communication disorders.
An effective study often requires access to research subjects, or participants. To equip scientists with participants, the Callier Center created a research participant registry — a database used to gather and store participant information.
Thanks to a generous gift from Callier advocate Jean Ann Brock, Callier launched the Social Communication Mentoring Program, an innovative initiative charged with implementing and managing the research participant registry. Through paid externships offered each semester, the program pairs autistic young adults with UT Dallas undergraduate students to interview participants and enter their information into the registry.
"Participant involvement is imperative for researchers and clinicians to develop new and increasingly powerful diagnostic strategies and interventions," said Dr. Lisa Goffman, professor and Nelle C. Johnston Chair in Communication Disorders in Children. "We are grateful to Jean Ann Brock for her support in developing this critical program that will advance research and clinical practices, as well as provide a remarkable opportunity for autistic young adults to work and learn alongside UTD peers."
A longtime Dallas resident and co-founder of Highland Homes, Jean Ann Brock connected with Callier in 2002, when she brought her 2-year-old son, Carson, to the center for a speech evaluation. For several years, Carson received speech-language therapy individually and through group programs at the Callier Center. At age 4, he was diagnosed with autism spectrum disorder.
"When Carson was young, he needed to learn how to socialize, interact and engage," Jean Ann said. "Children learn one of the most significant life skills at age 3, 4 and 5: how to play and be with others."
In 2004, Jean Ann made significant donations to build the playground at Callier Richardson.
"Therapists can observe and work with children in a real-world laboratory — also known as the playground," Jean Ann said. "I thought it was important that Callier have a playground to facilitate this development."
Years later, at age 18, Carson returned to the Callier Center, but this time, he completed an internship that helped to shape what would become the Social Communication Mentoring Program.
"It was wonderful to see Carson intern at the Callier Center given his personal history there," Jean Ann said. "Almost coming full circle, Carson would greet guests at the front desk and direct them to the proper locations."
In addition to advancing Callier's research mission, the Social Communication Mentoring Program gives autistic young adults the opportunity to acquire social communication strategies, time management skills and organizational proficiency — an experience that helps prepare them for future employment.
"I like out-of-the-box thinking, and the Social Communication Mentoring Program is just this," Jean Ann said. "Given that social development does not stop on the playground for neurodivergent kids, offering scientific mentoring to support meaningful social communication is a unique approach to helping these young adults."
Today, Carson lives at 29 Acres, a residential community for adults with autism and other neurodiversities. He is enrolled in a two-year transition program that helps high-functioning autistic adults transition from high school to their next phase of life. The Callier Center partners with 29 Acres to offer the Social Communication Mentoring Program as an employment opportunity for their residents. Externships are also available for autistic young adults throughout North Texas.
"I like out-of-the-box thinking, and the Social Communication Mentoring Program is just this."

– Jean Ann Brock
I would like to learn more about research at the Callier Center.