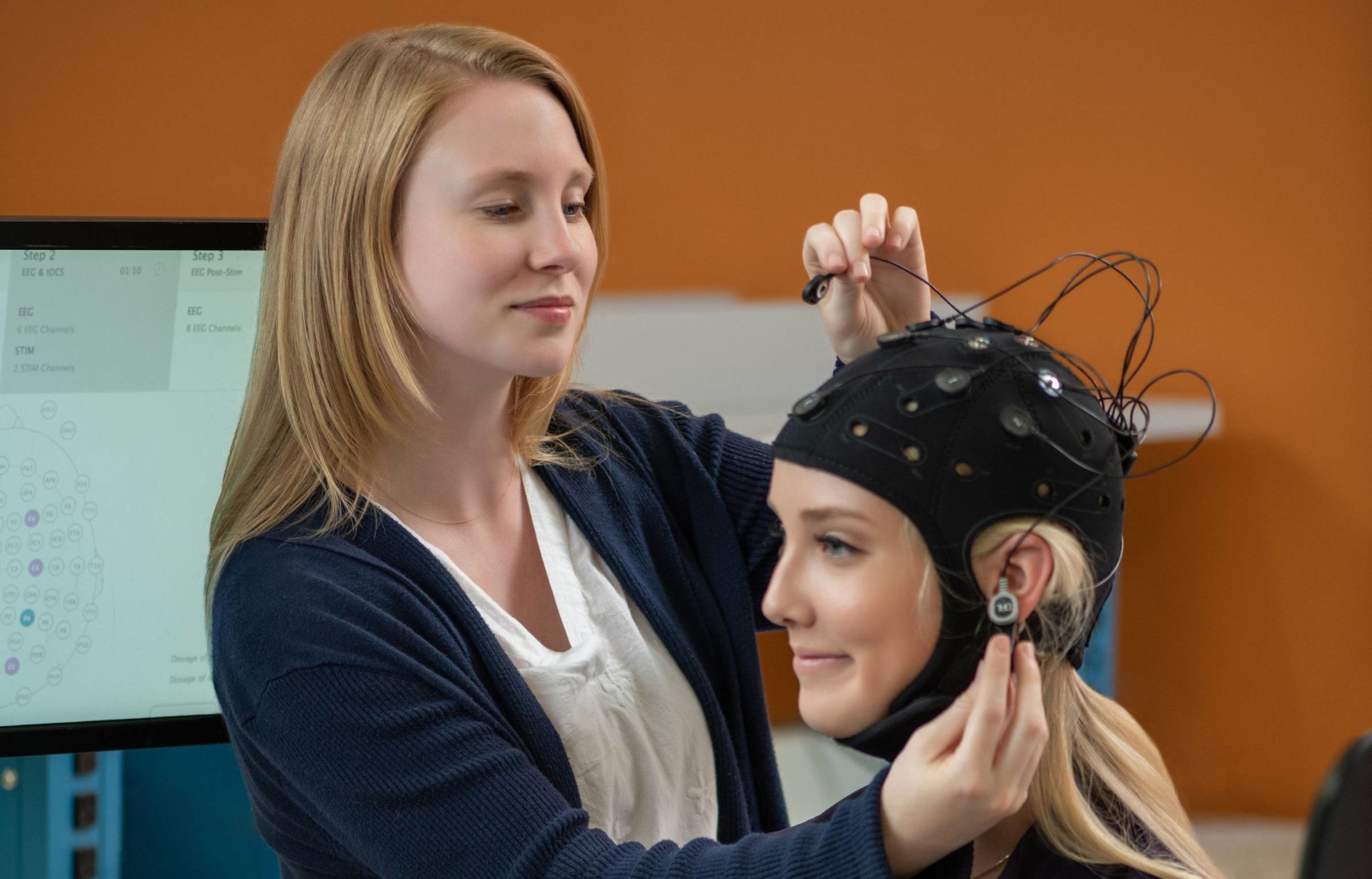 It's on the tip of my tongue!
This idiom is typically exclaimed in frustration, when a person cannot think of a word. Occasionally, everyone wrestles with anomia — the inability to recall the right word.
"This can be really troubling for people who have anomia to the extent that they cannot form sentences or get their thoughts across," said Elena Keltner, a doctoral student in the Communication Sciences and Disorders PhD program at UT Dallas.
Under the mentorship of Dr. John Hart, professor and Distinguished Chair in Neuroscience, Keltner conducts research that aims to determine the neural correlates behind a person's search for semantic object memories — words or concepts in the brain. Using electroencephalogram (EEG), Keltner monitors a research participant's brain and measures the electronic signals that occur when a person retrieves a word from semantic memory.
"If we can figure out how our brain does this normally, we can figure out what goes wrong in our brain when word-finding difficulties occur," Keltner said. "If we can do that, we can use the research to help people clinically, to create speech therapies backed by research evidence."
In speech-language therapy, when a patient struggles to recall a word such as "pen," a speech-language pathologist may cue the patient by providing a "feature," or descriptor, like "ink." Keltner is working to determine the kinds of features that best and most quickly help patients recall words. Her goal is to translate this research into a speech therapy app that assists patients with their semantic retrieval.
"Elena's clinical training in speech-language pathology combined with the neuroscience-based training she will receive as a graduate student provide her with a novel approach that will enable making unique and impactful advances in patient communication," Hart said.
Keltner hopes her research may be used to treat adults with anomia caused by conditions including stroke, brain injury or other communication disorders.
"It kills me when people can't talk to their children or grandchildren," Keltner said. "I want to help people tell their stories and communicate with their loved ones."
" I want to help people tell their stories and communicate with their loved ones. "

-– Elena Keltner, doctoral student, Communication Sciences and Disorders PhD Program