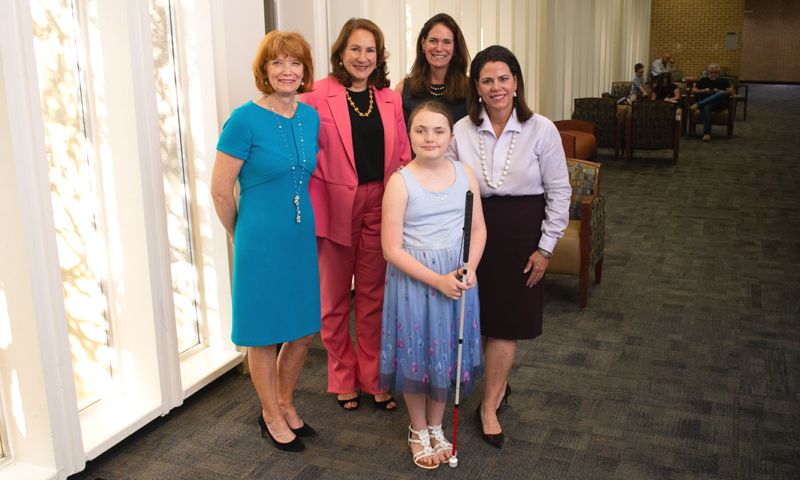 In 2016, the Crystal Charity Ball awarded the Callier Center a grant for $630,000 to provide hearing evaluations, hearing aids and three years of follow-up services to approximately 360 children from low-income families. Through Crystal Charity's generosity, 241 children have benefited from treatment to date, and Callier will continue to enroll children in 2019.
Mati Jones, 13, got her hearing aids two years ago and receives audiology services through Crystal Charity's funding.
"Without my hearing aids, I felt empty, because I couldn't really hear a lot," Jones said. "But when I got my hearing aids, I can hear almost everything, and I know what's going on. It feels like I'm really a part of things now."
As Medicaid declines and insurance companies consider hearing and speech-language services "cosmetic" or "elective," funding from philanthropic sources is critical to ensure that children from families who need financial assistance receive treatment for communication disorders.
The Crystal Charity Ball has opened the door for children in need, giving them the ability to hear and increasing their potential for a successful future.
Established in 1952, the Crystal Charity Ball has raised more than $143 million for nonprofits that help children in Dallas County. Over Callier's 55-year history, Crystal Charity has awarded the center $2,348,380 to support children in need.
"We strongly believe in the Callier Center and the vital services they provide to transform the lives of children with hearing loss in our community."

– Michal Powell, Crystal Charity Ball member and 2015 chairman