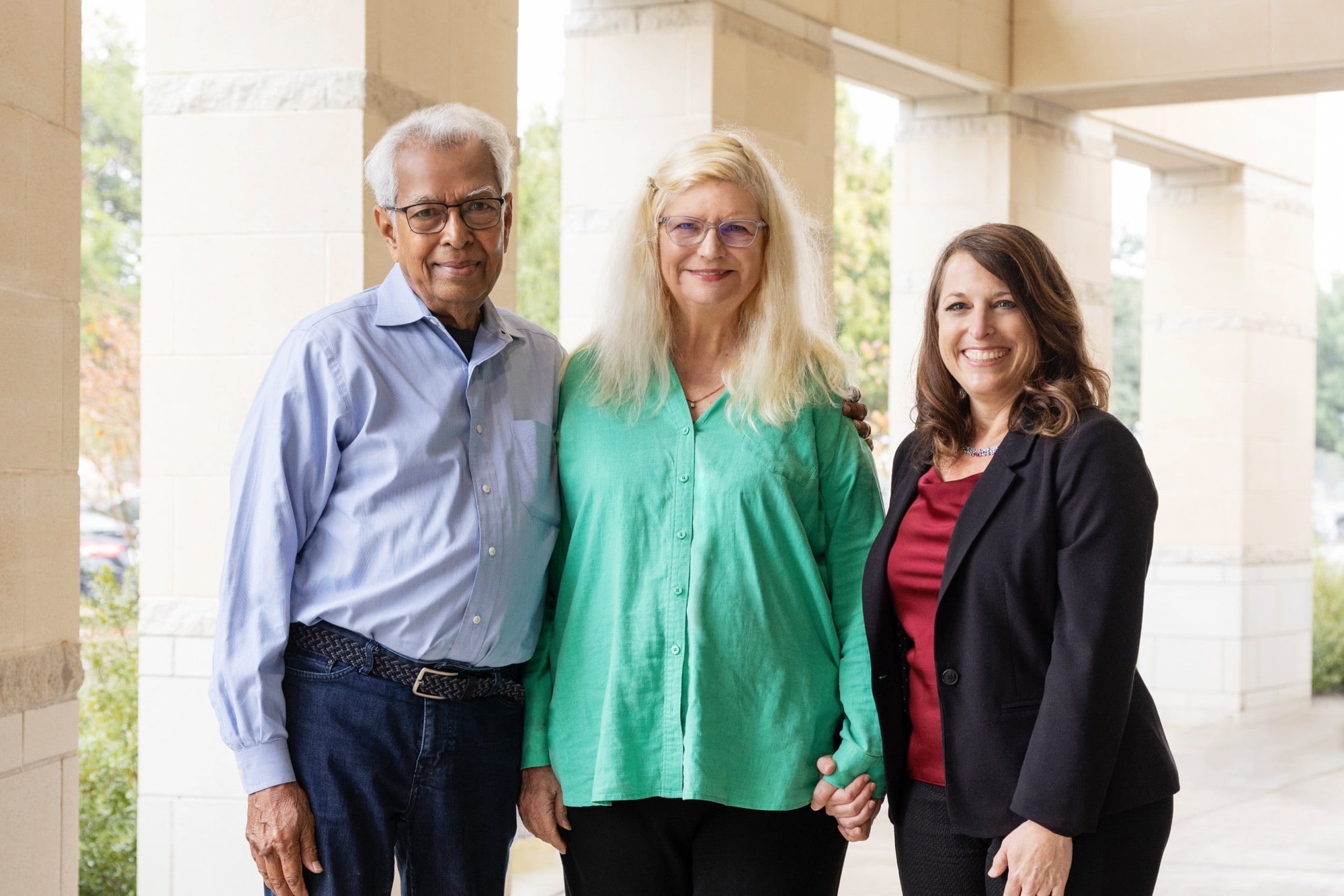 Beth and Mohammed Anis are passionate about giving children who are deaf the opportunity to hear sound, develop speech and interact socially through cochlear implantation. Their giving supports the work of Dr. Andrea Warner-Czyz, a researcher in the School of Behavioral and Brain Sciences, who explores how children with cochlear implants communicate with others and how communication affects how they feel about themselves.
"Because of what I went through," Beth said, "I want to help kids get cochlear implants, develop social skills and have better self-esteem, so they can reach their potential academically and socially."
Beth is deaf and got cochlear implants in her late 50s after wearing hearing aids most of her life.
At age 2, Beth did not talk, so her mother took her to John Hopkins Hospital where she was diagnosed with severe hearing loss and received hearing aids. From ages 3 to 9, she attended the Jane Brooks School for the Deaf in Chickasha, Oklahoma, a boarding school near her grandparents' home.
"I wore the hearing aids in a pocket strapped to my body under my clothes," Beth said. "It was called a body aid, and the cords went up to my ears."
In third grade, Beth transitioned to public school part time in McAlester, Oklahoma, her hometown. Her mother tutored her in the afternoons and took her to speech therapy. By fifth grade, she attended full time.
"My mother was instrumental in helping me hear and learn to communicate," Beth said.
Beth graduated from Colorado Women's College in 1974 and earned a master's degree in Human Development at UT Dallas in 1991. She met Mohammed while attending summer school as an undergrad at the University of Tulsa.
"For a whole week, he didn't know that I wore hearing aids because they were clipped in my bra," Beth said. "I called my mother on a pay phone and put the phone upside down, so my hearing aids could hear the phone. He said, 'What are you doing?' That's when he found out I was deaf, but it was too late for him."
The Anises have been married 47 years. Mohammed, an ExxonMobil retiree, and Beth raised four children and have three grandchildren. Over time, Beth's hearing worsened, and she got cochlear implants.
"I could hear much better, and I felt more comfortable communicating with people," Beth said. "I became less shy."
The Anises want to help children with hearing loss feel the same way. They were inspired by Warner-Czyz, who studies friendship quantity and quality, peer rejection and victimization (bullying), and loneliness in children and adolescents who are deaf or hard of hearing. In a new study, Warner-Czyz analyzes emotion recognition in adolescents during communication.
"Understanding the emotions of your communication partner is important for successful social interactions," Warner-Czyz said.
Eye-tracking technology indicates that cochlear implant users look at a speaker's mouth more than their eyes.
"Compared to their typical hearing peers, cochlear implant users need more time to discern the emotion on someone's face," Warner-Czyz said. "If you're trying to determine what someone is thinking or feeling during a conversation, two seconds is an awkward pause. After four seconds, the person you are communicating with feels rejected. Taking too long to process information causes a communication breakdown."
With the Anises' support, Warner-Czyz aims to find the causes of these "communication breakdowns" and develop therapeutic interventions which focus on the social skills that cochlear implant users need to have successful interactions with their peers.
"At Callier, there are many opportunities for deaf people to develop themselves," Beth said. "Without Callier, many kids would be lost."
"I want to help kids get cochlear implants, develop social skills and have better self-esteem, so they can reach their potential academically and socially."

— Beth Anis MS'91
I would like to learn more about the Cochlear Implant Program.
I would like to learn more about research.