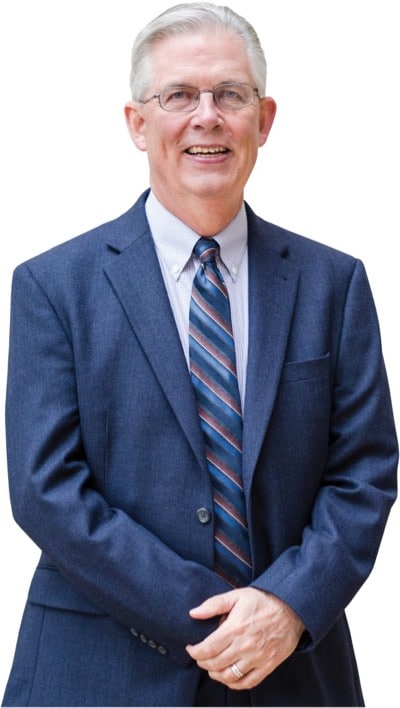 Dr. Thomas F. Campbell is a champion of children and adults with communication disorders.
As Callier Center executive director from 2006 to 2020, Campbell led the center through an era of expansion that advanced Callier's treatment, training and research mission, furthering Callier's capacity and ability to transform the lives of those with communication disorders.
After serving as director of audiology and communication disorders at the Children's Hospital of Pittsburgh, Campbell saw an opportunity at Callier to build an integrated research program that would translate results from the lab into innovative treatment for patients and leading-edge training for the next generation of clinicians. To realize this vision, Campbell expanded the center's infrastructure by building facilities, developing programs and energizing Callier's culture of philanthropy.
From 2014 to 2016, Callier facilities were renovated and extended with new construction, including the 7,000-square-foot Callier Autism Center in Dallas and a 50,000-square-foot state-of-the-art clinic and academic building in Richardson. The original Richardson clinic was repurposed into the Callier Clinical Research Center, a hub of collaborative, interdisciplinary research that translates into clinical solutions.
"To weave our three mission points together, we had to update and expand our facilities," Campbell said. "We strengthened and advanced Callier's vision by putting a structure into place to bolster future opportunities and move us forward."
Campbell fueled Callier's research initiative by establishing the Callier Postdoctoral Program, a two-year fellowship that empowers postdocs to create an independent line of research in collaboration with faculty. He also developed the Callier Prize Conference, which attracts internationally renowned scientists that present groundbreaking research and clinical advancements. To recognize individuals for scientific developments in the diagnosis and treatment of communication disorders, Campbell implemented the Callier Prize in 2009, which was later renamed in his honor. Today, the Thomas F. Campbell Callier Prize in Communication Disorders is one of the most important awards in the field. Within the School of Behavioral and Brain Sciences, Callier's graduate programs in audiology and speech-language pathology rose to rank among the top ten programs in the country according to U.S. News & World Report.
A highlight of Campbell's tenure was his partnership with the Foundation for the Callier Center. During this time, Callier raised more than $20 million from generous donors. Dr. Ken Altshuler and his late wife, Ruth, created the Callier Care Fund to provide access to treatment for patients who otherwise cannot afford care. In 2012, the foundation launched the Callier Cares Luncheon to benefit patients in need and to present the Ruth and Ken Altshuler Callier Care Award, which recognizes those who have contributed to the betterment of the community and to advancing the care of patients with communication disorders. With the foundation trustees, Campbell expanded care for patients in need and elevated Callier's identity in North Texas.
In 2019, Callier cared for its 100,000th patient.
"Achieving excellence in clinical care is at the center's core," Campbell said, "but Callier's uniqueness is its integration of treatment, training and research to benefit people with communication disorders."
Despite funding constraints in the education and health care industries, Campbell looks forward to a future in which Callier remains important to the community.
"It's always been my dream that the Callier Center has enough endowments and gifts to ensure that everyone in need receives care," Campbell said. "Someday, I hope that is achieved."
During his 14-year directorship, the Callier Center soared as one of the most distinguished communication disorders centers in the nation while focusing on helping those in need. Campbell retired in September, leaving Callier a world-class center with kindness at its heart.
"It's always been my dream that the Callier Center has enough endowments and gifts to ensure that everyone in need receives care. Someday, I hope that is achieved."

– Dr. Thomas F. Campbell
I would like to make a gift to the Callier Center.
Give Now