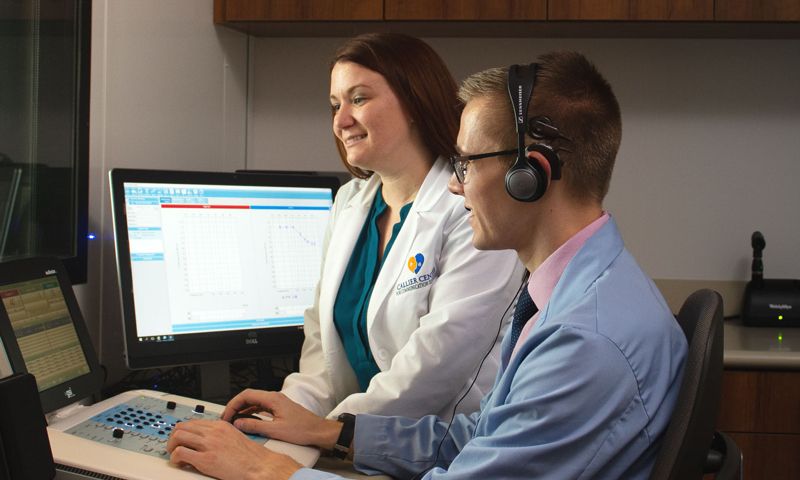 At age 15, David Tolstyka suffered from an autoimmune inner ear disease. Within three months, he went from normal hearing to profound bilateral deafness.
"There's an existential dread to losing a sense," Tolstyka said. "It's something that no one can prepare for."
Tolstyka underwent cochlear implant surgery in Michigan. When his family moved to Texas, he received audiology services from Dr. Shari Kwon through Callier's Cochlear Implant Program.
As an undergrad at Texas A&M University, Tolstyka began his studies in nuclear engineering, but realized his heart was set on helping people. Tolstyka contacted Kwon, who arranged for him to shadow her at Callier.
"Now, I'm seeing it from the clinical side," said Tolstyka, a second-year graduate student in the UT Dallas Doctor of Audiology Program.
The four-year program, ranked No. 4 in the nation by U.S. News & World Report, includes three years of clinical training at the Callier Center plus a yearlong externship. During the fall semester, Tolstyka trained with audiologist Dr. Shawna Jackson.
"David has been gifted with unique insight through his personal experience that will serve him well in working with patients," Jackson said.
Tolstyka dreams of owning a private practice and offering pro bono work.
"I'd love to start a charity working with children, where I could say, 'Here is your cochlear implant. It's paid for,'" he said.
"I could see myself doing this for the rest of my life – being able to give back and help, just like my audiologist helped me."

– David Tolstyka, audiology graduate student